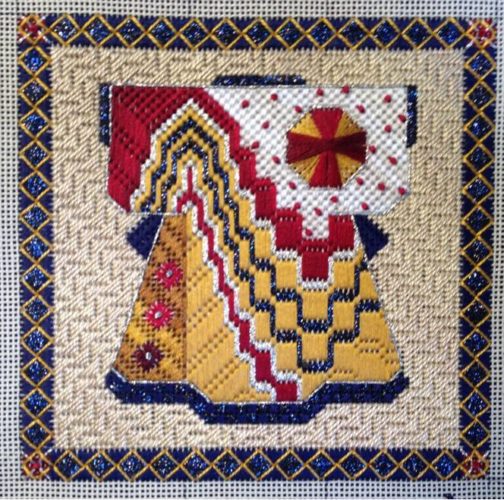 Canvas: 18ct Mono, Sandstone, 9" x 9"- (line drawn design optional)
Design Size: Box Top—5" x 5", Ornament — 3.5" x 3.75"
Program Dates: January 4 – 8, 2018
Registration Dates: closed.
Costs:
PDF Instructions Only: $11
Line Drawn Canvas with PDF Instructions:

US CP: $28
Canada/Mexico CP: $37
other International CP: contact registrar
Whether as an ornament or box top, this delightful kimono highlights a beautiful Bargello pattern in Imperial gold, red and blue. Using DMC Floche/floss, Kreinik metallics, DMC & Threadworx over-dyed floss, and a few beads, this kimono will make an impression. Stitch just the kimono and create a regal ornament or finish the entire 5" x 5" piece for a box-top or frame. You'll explore how wonderfully the Bargello pattern fits into the kimono, stitch a unique variation of an octagonal Rhodes Stitch, Daisey Eyelets, French Knots, Diagonal Mosaic variations, Checkerboard Mosaic, Slanted Gobelin, and surround the whole thing with a royal blue border, Double Oblong Cross, Pavilion Border, couching and Milanese background. A line-drawn canvas or accurate thread counts allow for an ease in stitch placements.
Materials Students need to have to stitch this piece.
If not purchasing the line-drawn canvas: 9" x 9" 18ct Mono Canvas, Sandstone
9" (2 pair) stretcher bars
tacks or staples
laying tool
frame or frame weight
usual stitching supplies
light and magnification if desired.
Threads used in Design:
DMC Floche #783 Medium Topaz- (1/4 hank) Or DMC Floss 1 skein, same color
DMC Floche #823 Dk Navy Blue- (1/4 hank) Or DMC Floss 1 skein, same color #
DMC Floss #111 Variegated Mustard– 1 skein
DMC Floss #115 Variegated Garnet– 1 skein
DMC #8 Perle #738 V Lt Tan – 1/2 ball (approx. 45 yards)
Kreinik 1/16" Ribbon #060 Midnight- 1 10m spool
Kreinik 1/16″ Ribbon #102 Vatican Gold – 1 10m spool
Kreinik #8 Braid #102 Vatican Gold – 1 10m spool
Threadworx OD Floss #10301 Samson – 5 yards
Accentuate #MMA022 Pale gold – 5m (or Bijoux#423 – Gold Glint)
Delica Beads 11° #753 Matte Red – 30-40 beads
OR Mill Hill Magnifica Beads 11° # G11100 – Matte Cranberry
Needles: 20 & 22 Tapestry, at least 2 each